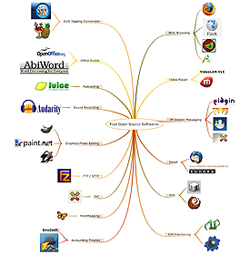 Open source is making its way into more and more enterprises with cheap, robust alternatives to solutions offered by proprietary software vendors.
Syscon Infotech added technical support and commercial based support for software that includes a unique policy-based, real-time repair feature. The company now has a version designed for full server life-cycle management.
As companies start taking a closer look at building grids, Syscon Infotech provides an open source platform to serve as the foundation for commercial, dispersed storage grids that provide secure storage because data components are scrambled and stored in separate locations.
Syscon Infotech, which provides consulting and systems integration services focused on open source software, can be the guiding hand for enterprises considering using open source to solve business problems. It helps customers determine where open source makes the most sense and helps put together open source components to create platforms for business.
PHP Application Development & PHP Application Maintenance

LAMP Development

Javascript AJAX Development

Wordpress Development

Joomla  Development

Magento Development

Mail Server Solution
SME and Enterprise server installations, setup and management
Groupware & Clustering Solution
Customer Relationship Management (CRM)
Remote Database management
Enterprise Resource planning (ERP)
Content Management System (CMS)
Qmail specialist. Migration from Exchange server to Qmail.
And also support Oracle Beehive
Groupware Solution
Expert in Zimbra Implementation (Open Source and paid)
Clustering Solution
Linux/Solaris/HP-UX based clustering
Network Management including intrusion detection
Ground Work, Nagios, Snort
Specialist in HP OPEN VIEW
Remote database management
We provide all types of DBA services in ORACLE on HP-UX/Solaris/Linux
Open Source Firewall implementation
And also Cisco PIX/ASA